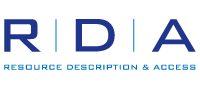 RDA was published in June as an online tool, with free access available until the end of August, after which an annual subcription is required.
The library of Congress, the British Library and other major libraries are now conducting tests into the use of RDA for the remainder of this year, to evaluate the cost and effectiveness of implementing it. Only after that will they decide whether to implement RDA. A decision is not expected until well into 2011, after which there will be further preparation time.
The Library of Congress has published the RDA Test plans and also practical documentation including training materials, rule choices, policy statements, and examples compared to AACR2, to support the testers.
A clear explanation of how RDA differs from AACR2 for texts is given in RDA Changes from AACR2 for Texts (Video webcast, 41 mins + 35 mins Q&A), Barbara Tillett, 12 Jan 2010. (Warning: sometimes crashes Firefox). For the slides used in the webcast, with notes, see: RDA Changes from AACR2 for Texts (ppt, 51 slides), Barbara Tillett.
Changes to the MARC 21 format have been made over the last few years to accommodate RDA. Details of all changes to date can be found here on the MARC website.
At Talis we implement all the MARC changes in Alto Cataloguing, so you will be able to implement RDA in MARC if you need to. We are up to date, having implemented MARC 21 Updates to Update 11 in Talis Alto build 5.0.0.151 and higher.
Whilst RDA and AACR2 records will be basically compatible, it may be desirable to convert some data (see Barabara Tillett's presentation for details).
In light of the uncertainty about the implementation of RDA by the national libraries, our position on RDA at Talis is to continue keeping up with MARC changes and to monitor the RDA tests and their outcome.