These two aircraft originally entered service a few months apart in 1944. Which would you suppose to be the fastest?
Surprisingly it is the one on the right, the piston-engined Hawker Tempest, which was 20 m.p.h faster than the first variant of the jet-engined Gloster Meteor. Within a few years, however, later variants of the Meteor were half as fast again, easily outstripping the fastest piston-engined aircraft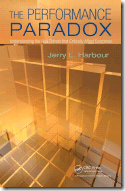 This is in an example of one of the principle paradoxes at the heart of The Performance Paradox a book about the management of performance. New technology, new ways of doing things, even new procedures open up the possibility of a huge improvements in performance: but when first introduced, may underperform compared with the old.
It is of course easy to use this observation as a smokescreen to hide failed initiatives: but nonetheless real advances may produce a temporary dip in performance management metrics. It's a useful insight when trying to understand the reason for a reduction in performance where you had expected an improvement.