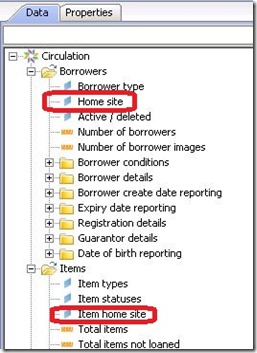 Last week I was looking at a Talis Decisions report problem: some results were returned but they were wildly inaccurate. In the end it turned out to be a fairly simple issue: the wrong object had been used in the report: "Home Site" (i.e. the borrower's home site) was being used instead of "Item Home Site".
This kind of mistake is easy to make: clearly every object has to have a unique name so occasionally object names have to be chosen to be unique rather than purely for clarity in the context. Also if later on experience suggests an improvement in naming, this is difficult to do because changing the name of an object breaks all the reports that use it. Every object does however have pop-up help associated with it (just hover over the object), so if you get odd results from a query one of the first things to check is the pop-up help just to make sure that you have the right objects.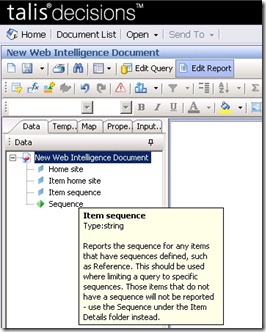 There are also situations where what really is the same thing pops up in two places: an example is Item sequence and Sequence Where this occurs, the difference is often between whether the results are inclusive or exclusive (i.e. all items, with Sequence if they have one; or just those items that have a Sequence). This issue is covered further on the Exploring the Talis Decisions Universes webinar.