Talis Decisions is a powerful and flexible reporting tool, but there are some things that can be done more easily in other ways. These include reports that also perform an update.
Examples include
reports of items that have not been loaned for a while that also set the status to withdrawn (see a recent post on stock management). We were asked to do this recently by a public library customer, and wrote a specific Perl script to the customer's specification do both the reporting and the Alto update.
Another example (for the same customer) was a script which didn't merely report on popular items, but also updated the item type on Alto in accordance with the library's preferences
Another customer wanted to check stock using data from an RFID wand to report missing items and to set the status on Alto accordingly; again we wrote a bespoke script to implement the behaviour that they wanted.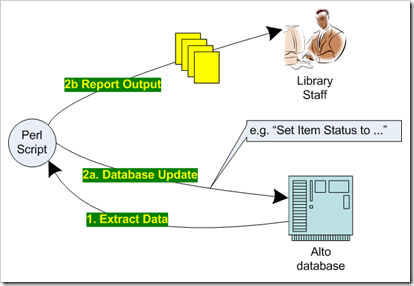 If you are interested in this type of combined reporting and update, please contact your Account Manager