You may have seen the announcement a couple of weeks back about the new Talis Decisions universe and associated files to allow access to data originating in Lorensberg's Netloan installations.
Here are some illustrations of the kind of reports that can be produced by combining data from the Netloan and Circulation universes (click the pictures to enlarge);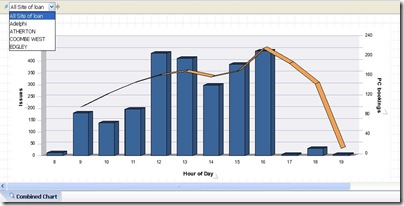 This example plots issues in each hour through the day (represented by the height of the blue bars) alongside the number of PC bookings, also broken down by hour of day (Orange line). Such a report might for example be used as an input to staff planning. The drop-down menu at the top left is a drill filter on the site (at present it is showing all sites, but in principle the figures could be filtered for an individual site).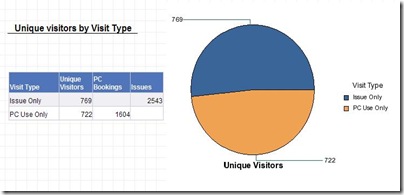 The second example counts the number of unique visitors against the purpose of their visit (item issue or PC booking). In this particular example there was no overlap between the people who came in to borrow something and the group who came in to use the PCs, but the report would be quite capable of showing a third type of visit ("Both") which would make a third pie segment. This report is more complex to produce (it uses variables for Visit Type and Unique Visitors) but does not require any other special treatment.
You can also combine Netloan Universe data with spreadsheets or other data sources. Recently, a customer kindly sent me some statistics from their Network Management software. Here is an example (exported as a PDF) which combines these two sources of data (PC bookings and network statistics) in the same Talis Decisions report: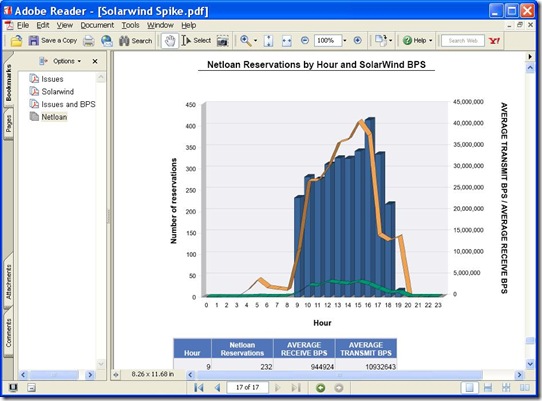 The report shows the number of PC booking reservations in each hour of the day (blue bars), the "Transmit" Network traffic (orange line) and the "Receive" Network traffic. This could be useful if you were trying to isolate a problem: in this example there is clearly a big peak in bookings around 4:00 p.m, with an associated peak in network traffic, but another unexplained peak around 7:00 p.m.
Please do let us know what you think of the usefulness of this new Universe: e mail us or just add a comment by clicking on the bubble in the top right of this post.