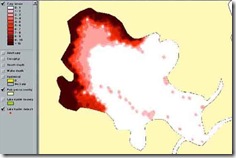 A Geographical Information System (GIS) typically overlays a map with a representation of some kind of location-based statistical data – such as customer density  or crime rate. The picture is of carp larvae density in a lake created by the FAO. The city of Denver in the USA actually has a local government website dedicated to GIS.
There are broadly two ways in which GIS's could be relevant to libraries:
Supporting library management choices. For example, a map overlaid with borrower density based on postcode and/or age group might be helpful in decisions on opening/closing sites or on site-related stock purchasing.
As a service to library customers – especially in business libraries
A colleague recently brought my attention to an example of the latter; a system used in some US libraries providing consumer market data via a GIS. I have no knowledge of the particular system or its supplier, but the principle is interesting.
If you already use GIS in your library in either way (as management information or as a customer service), or if you have views on this, please do post a comment (click on the comment bubble on the top right).